About us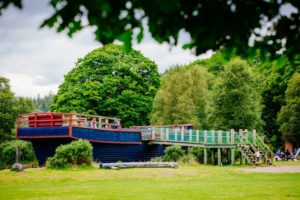 Clara Lara is an unique outdoor adventure Park dedicated to providing healthy and creative fun for families and groups of children.
30 acres of beautiful countryside in the Avonmore River valley with tree houses, tarzan swings, rope bridges, rowing boats, water slides, rafts, canoes, junior go-carts, B.B.Q.s, mini golf, picnic areas, a restaurant and lots more. The lakes are all man made with a flat gravel bottom and approximately 3 feet deep.
It is ideal for children and a great day out for groups up to the age of 13 years. The park is suitable for young families. However, older children are welcome to visit with younger siblings. We do not admit large groups of children over the age of 13 years, e.g. Summer Camps, Clubs etc. 
Prices
Why choose us
1
The Park offers good healthy old fashioned fun.  We promote fitness and challenges for children to explore their adventurous side.
2
All activities are accessible and present challenges to the cautious and courageous alike. However a basic level of fitness is required.

3
People get hungry after all that exercise why not have a bbq, food always tastes better "Alfresco" but if you don't feel like bringing the kitchen sink try our picnic restaurant.
4
Children will leave the park tired and ready for sleep.